Logosys Broadcast Automation Playout Fully Cr@cked
Logosys playout is India's Most Advanced and Robust Broadcast Automation Software and Character Generator Automation with Playout Automation Software for satellite television channels or Cable TV Channel Broadcaster. Logosys Playout supports SDI and HD output with Blackmagic's Decklink Boards. It support unlimited Graphics Overlay with High Quality Adobe Flash, Targa (*.tga) & PNG (Quicktime) Sequences & Still JPEG, Bitmaps and PNG.
Features
Fast and flexible playout software for all your broadcast, show, event and digital signage needs!
Play simultaneous layers of dynamic graphics, videos and images in real-time, without caching.
Stand-alone operation mode can collect data itself from DB, XML, RSS feeds or external sensors.
Output to multiple SDI, HD-SDI, HDMI and computer screens with key/alpha and audio.
Works with all SD and HD resolutions, both progressive and interlaced!
Supports all video formats
Plays all common formats
Much, much higher performance
Stack multiple media freely and re-order them on the fly
Output to computer screens
Grab input video and overlay your graphics and videos
Multiple video cards in one server
Generate alpha channel from a separate file of any type
Built-in video effects (DVE)
Great audio options including SDI‌ embedding
Grid-view of all playing media
Monitor real-time performance
Animated transitions, queuing and custom loop points
Works on Windows 7 and Vista
System Requirements
Video Card – you can start using the software with almost ANY middle class video card, but in order to receive interlaced signal with a good broadcast quality you must use video cards like Blackmagic DeckLink with SDI connection. Along with DeckLink you can use an ordinary VGA card like ATI Radeon 9550 PCIe or higher. If you use Matrox P650 or Matrox Parhelia APVe you will need a good sound card like Creative AUDIGY. When using DeckLink you do not need a sound card.
Logosys Playout software will work with ANY video card that guarantees the availability of the following functions:
It supports dual screen mode and is able to display different picture on each monitor
It is able to expand the image to fill the entire screen of the second PC or TV monitor
It provides interlaced signal, because if the signal is not interlaced this will result in video tearing when the images on the screen change rapidly. This problem occurs only with TV screens. For IPTV you may probably skip this requirement because the user will use the PC monitor as a TV screen.
Most of the current video cards meet the first requirement, but fail with points 2 and 3. All these 3 features are functions of the driver and not functions of the Logosys Playout software. We recommend using these models of ATI video cards because they meet even the highest demands, work stable and are not expensive, compared to other hardware solutions.
* If you want to output broadcast signal through the SDI port we strongly recommend you to use only approved Blackmagic DeckLink cards and drivers.
Approved Blackmagic cards: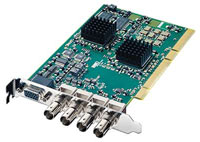 DeckLink Pro PCI or PCIe
DeckLink Extreme PCI or PCIe
DeckLink SP PCI or PCIe (part number BDLKSP)
DeckLink HD Extreme PCIe x 16 (part number BDLKHDEXT)
DeckLink HD Extreme 2 PCIe x 16 (part number BDLKHDEXT2)
Basic Preview Video 
Download Link..